MNIPL's Policy Team seeks to empower and mobilize people of faith to advocate for policy initiatives addressing the climate crisis and creating a 100% renewable, equitable, and sustainable future for all.
Interested in joining the team? Email [email protected]. We meet bimonthly (the second and fourth Monday of the month) from 6:30-8pm, at our MNIPL office: 4407 E Lake St, Minneapolis. You can also call in with this Zoom link.
The policy team has two main focuses: Our mobilization sub-team works on turning out our network throughout the state to large climate mobilizations, preparing educational materials and action steps for people of faith to get involved. Our state and local policy sub-team helps to co-develop Minnesota's strategy on climate, tracking and acting upon specific policy initiatives. All are welcome to join either sub-team, no matter your level of experience!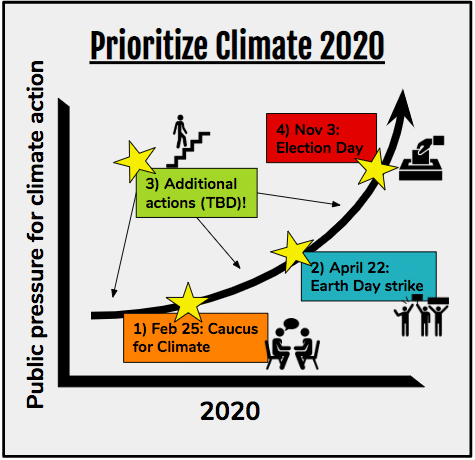 Take Action: Prioritize Climate 2020
In this critical election year, we need thousands of Minnesotans of faith to mobilize together, building momentum to ensure that climate is a top priority for decision-makers, candidates, and voters in 2020 – ensuring a just and healthy planet for generations to come.
To achieve this vision, MNIPL is launching a roadmap called Prioritize Climate 2020 (summary one-pager here!) to help you and your faith community join this movement of citizens calling for climate action. We invite you to four key opportunities this year to build collective power as an interfaith climate movement, leading to climate becoming the top priority for 2020 voters:
1) Attend your precinct caucus on February 25 to Caucus for Climate. Thousands of Minnesotans caucusing for climate, across all parties, will send a powerful statement that climate is a top priority in 2020! Use this toolkit to commit to Caucus for Climate, lead a Caucus for Climate training in your faith community, or join one of the MNIPL-led trainings across the Twin Cities!
2) Strike for climate on April 22 – the 50th anniversary of the first Earth Day, when 20 million Americans took to the streets to demand environmental action, and they won. We need millions in the streets again this Earth Day for climate action! Stay tuned for details, and mark your calendars for a march on Earth Day, April 22. 
3) Vote for climate in the 2020 election! We believe climate change and how it will impact our future must be at the top of every voter's mind. MNIPL will be offering resources and opportunities to get out the vote for climate in the 2020 election. 
4) Additional Action: Who are the decision-makers in your context who need to prioritize climate? Work with MNIPL to create a plan to influence your key decision-makers – from your State Senator supporting 100% clean energy to your city council creating a climate action plan! 
Current Campaigns
100% Campaign
MNIPL is actively supporting multiple bills currently under consideration in the legislature that call for MN to transition to 100% carbon-free electricity by 2050. Show your support for these efforts by signing onto our petition that calls for 100% clean energy. You can also download a printable copy.
MNIPL is proud to be among dozens of community organizations, unions, and advocacy groups pushing for 100% clean energy in Minnesota. Learn more about the coalition at https://100percentmn.org.
Clean Cars MN
In 2019, Governor Tim Walz proposed new rules for auto dealers that would reign in auto emissions for new vehicles and expand access to electric vehicles. This proposal not only reduces emissions but also expands consumer choice. MNIPL and our members were actively engaged in the first round of public hearings in the fall of 2019, and plan to be once again when the second round of hearings occur in the spring of 2020.
Climate Emergency Petition
Engage your community to sign onto the Climate Emergency petition to let our elected officials know the climate crisis is a priority for all Minnesotans.
Sign the Climate Emergency online petition and to download a printable PDF for community members to sign, click here. You can email a photo of printed signed petitions to [email protected]