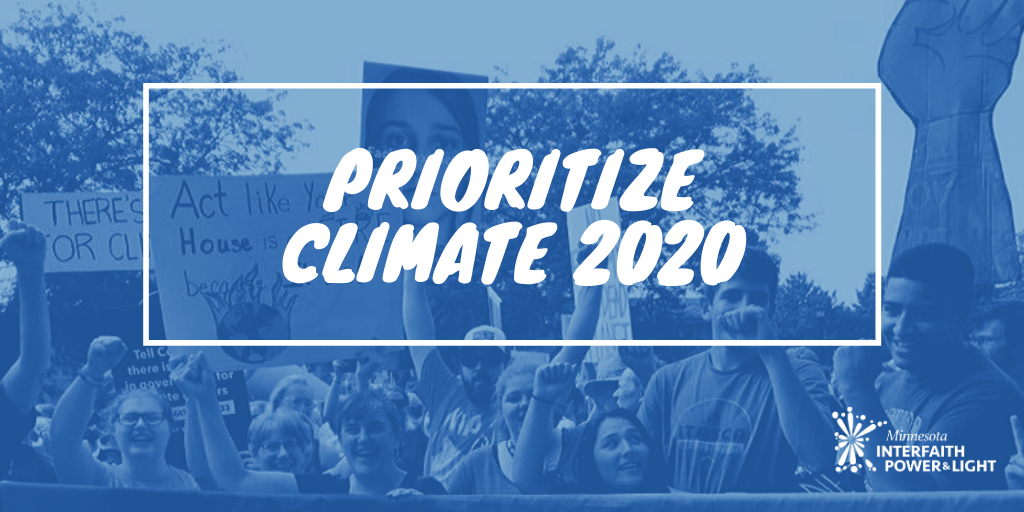 Be the Change. Be Part of Earth Day 2020!
As part of our Prioritize Climate 2020 mission, we are working with dozens of partner organizations on a host of actions and events on and during the week of April 22, Earth Day 2020. Find out more about Prioritize Climate here.
Check back regularly for important updates!
Background: April 22 is the 50th anniversary of the first Earth Day, when 20 million Americans (10% of the population) took to the streets to demand environmental action, and they won. We need millions in the streets again this Earth Day to call for climate action! Multiple climate events and mobilizations will be held from April 22 to April 25.
This will be the kickoff toward the countdown to the election, when we need the climate crisis to be at the forefront of everyone's hearts and minds. Research is clear: mass mobilization is critical for creating change!
MNIPL will be offering:
An Earth Day toolkit to help mobilize faith communities to the Earth Day mobilization/s, and a shared calendar to compile Earth Day events that congregations are offering.
We are challenging faith communities to have an earth focus in worship the weekend of April 17-19.
Tentatively, we are inviting congregations to attend two key events: the Youth Climate Strike on Wednesday, 4/22 @ 1pm, and Stand Up 4 Our Future on Saturday, 4/25. More details soon!